Fashion in D.C Inauguration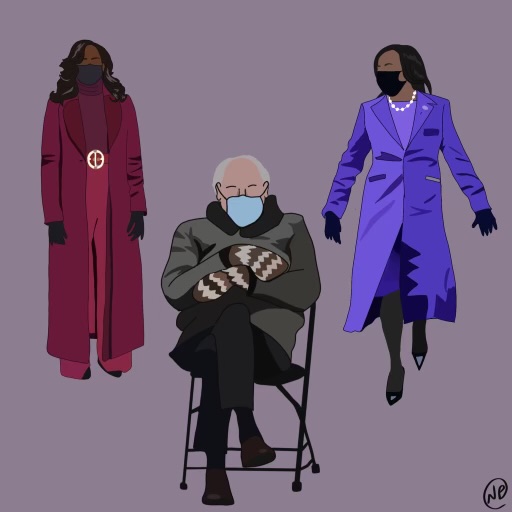 The 2021 presidential inauguration of the 46th president President Joesph R. Biden was quite eventful and talked about within its upcoming days and days after. However the popular conversation especially amongst the youth was the fashion in which was worn by the politicians after today and before, and their spouses. 
Former First Lady Michelle Obama wore a dark magenta pant suit that was a showstopper straight out of the gate. He immediately caught imedias attention first reading by the side of her husband former President Barack Obama in a very glamorous and clean.
Second to cause a stir within the media was Senator Bernie Sanders who's outfit has helped raise 1.8 million dollars for charity. His outfit consisted of a necessary surgical mask due to the Covid-19 pandemic and precautions, a jacket, a now iconic mittens that were of a brown white and beige zig zag pattern; and lastly some black pants. Tiktokers have even come up with the term Berniecore to address the whole style of the outfit. His outfit went on to become a meme, and that is where Bernie Sanders got the idea to put it on clothing items in order to raise money for his charity.
Vice president Kamala Harris wore a purple outfit with pearls. The pearls historical connection with a historically black sorority that she attended called Alpha Kappa Alpha.
Purple was a common theme throughout the inauguration for former first lady Hillary Clinton also wore purple to symbolize unity and bipartisanship for it was the original color of the outfits of the suffragettes.
First lady Dr. Jill Biden also amazed us with her fashion choices by wearing a sustainable blue dress and coat me from sustainable materials, and later changed into a purple outfit.
Overall, there were many showstoppers amongst all the beautiful outfits that were worn during the historical event, and many very talented designers created spectacular outfits that really left everyone talking about it for days that came after.
Leave a Comment