NPHS Drama Presents "Edges: A Song Cycle"
NPHS Drama's "Edges" will premiere June 3-5, 2021 virtually.
More stories from Samuel Loranger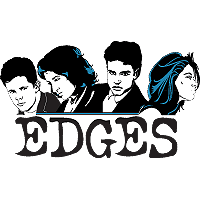 For their final show of the 2021 season, NPHS drama virtually presents "Edges: A Song Cycle" in association with Music Theatre International (MTI). This June, the drama club will release the recorded and edited film of the show for viewers to watch in their homes.
The show will stream on June 3rd, 4th, and 5th.
Price is $15 to obtain the link to see the show for non students/faculty. For faculty and students, there is a reduced price of $10. See or email Mrs. Thomas or Mrs. Kelly.
The purchased streaming ticket will give you the ability to view the show within the 48 hour window once you activate the link.
Purchase the show link here.
NPHS Drama Directors provided a synopsis and background of the show on their facebook event which reads: Edges is a song-cycle about burgeoning adults asking classic coming-of-age questions. Written by Tony-nominated Benj Pasek and Justin Paul (Dogfight, James and the Giant Peach, The Greatest Showman) in their sophomore year at the University of Michigan, this charming, witty and honest examination of adulthood explores what happens when we are teetering on the edges of our lives. The songs cover such universal issues as love, commitment, identity and meaning. Characters deal with confronting emotions, escaping expectations and deciphering complicated relationships. (www.mtishows.com)
They also said, "We are extremely proud of our students for the work they have put in to learn this challenging score and bring these characters' stories to life. We hope that you join us, and we thank you for supporting the Arts in North Providence!"