NPHS Seniors Accepted to Prestigious Universities
Four NPHS Seniors accepted to the nations most prestigious universities.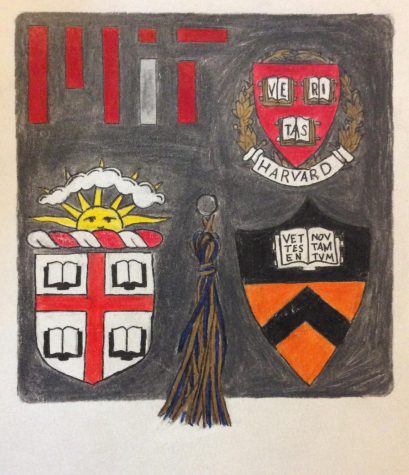 April 6, 2021: The day many excited, nervous, and anxious high reaching members of the senior class (who applied to Ivy League universities) received their admission responses. Also known as "Ivy Day," this yearly occasion is when the eight Ivy League schools release who they will be accepting. This Ivy Day, two of North Providence High School's seniors received the letter, and learned that they would be granted admission. Samantha Williams and Aidan Iacobucci were accepted to Harvard University and Princeton University respectively. Aidan was also accepted to The University of Pennsylvania, Columbia University, and Dartmouth College, but thinks he will be committing to Princeton.
Among Samantha's and Aidan's big news, two other seniors also received letters of admission to top schools as well. Through a program called "Questbridge," a nonprofit organization that connects the nation's most exceptional students from low-income backgrounds with leading institutions, Cassie Travis matched with Brown University. Because of this program, Cassie was able to find out about her admission earlier than regular decision applicants. The last student on this list, Olivia Avelino, found out about her admission to the Massachusetts Institute of Technology (MIT) in late 2020, and has been looking forward to it ever since.
Cassie told the Cougar Courier in a brief exchange, "I've always loved Providence, having lived there when I was younger and going to theater camp downtown every summer. I dreamed of myself at Brown when I was younger, but hadn't thought it through in a logistical sense until I started my college search junior year. When I got into the Questbridge program, I started to research all of their partner schools (which Brown is one of) and decided on what I wanted in a college. I loved the idea of an open curriculum: having the freedom to take all the classes I'm interested in and only those classes. I loved the blend of a college town and an urban setting and I loved an open environment where every person could be who they really are. I realized that Brown was everything I was looking for and put it at the top of my list!" Cassie plans to study both biology and gender studies.
Samantha Williams told us, "I applied to Harvard because of its prestigious academic status over centuries. The idea that I could join a long line of successful and inspirational leaders in the field of politics, law, and government (from John Adams to John F. Kennedy) seemed impossible, but I decided to try anyway. Only 3.43% of all applicants accepted sounds impossible, but I squeaked through. When I opened my applicant I simply could not believe it. My parents were so confident I'd get in; my father had already bought and put on his Harvard t-shirt. I'm normally more of a "excited in silence" person, but I called all of my close friends and family separately to announce the news. Hearing people's reactions never gets old. I'm still pinching myself over it, but I have never been more excited for a new chapter of my life." Samantha plans to major in government with a concentration in public policy.
When Olivia first opened her letter from MIT, she was in disbelief. Describing that feeling, she tells us, "I remember checking my letter, I was standing in Victoria Secret in the Providence Place Mall when I got the email. I opened it standing right there of course while my friends were still shopping. I read through it and then literally had to pass it to both of them to make sure I wasn't just making the words up. I was absolutely shocked. It was one of the best feelings ever." Olivia also told us, "At first I was not even going to apply to MIT. I honestly thought there was absolutely no shot. I was always interested and it was the best school possible for my major, but I just didn't think I would have a chance. Honestly, I ended up applying because it was always my dream school and the application was free, but I really was not expecting to actually get it." Olivia plans to do a combined major of Computer Science and Cognitive Science to study biological methods to creating stronger artificial intelligence.
We talked to Aidan in person, and he described his application process by saying, "I was quite nervous about applying to such big schools because of the coronavirus, as everything was so competitive this year. I knew there was a larger applicant pool, as schools were SAT test optional . . . When I opened the Princeton letter, the application took a really long time to load, but when it finally popped up it said 'Congratulations' and I screamed… I screamed so much the dog started barking and it was craziness." Aidan also gave some advice to future applicants: "I will say this, you have to make sure you put you personality into your essays and you have to make sure you show the school who you are."