2022 World Series: 3 Reasons the Phillies Will Take Down the Astros
How will the two teams match up in the Fall Classic?
While the Houston Astros and Philadelphia Phillies may have taken different paths to arrive at the World Series, each has proven, through different means, that they belong.
The Houston Astros (106-56) look to remain undefeated in 2022 postseason play as they seek their second World Series title since 2017. Their regular season successes secured them a bye to the best-of-5 ALDS (American League Division Series), where they could subdue the red-hot Seattle Mariners and advance to the best-of-7 ALCS (American League Championship Series). There, they vanquished the 99-win New York Yankees in 4 games—a sweep that has guaranteed them a chance to compete for the championship title.
The Philadelphia Phillies (87-75), who are 9-2 in the postseason, will likely not be an easy opponent. They were able to stave off the hungry St. Louis Cardinals in the best-of-3 Wildcard Series, defeat the defending champion Atlanta Braves during the NLDS, and overmatch the San Diego Padres in the NLCS. They look to bring a championship back to the city of brotherly love for the first time since 2008.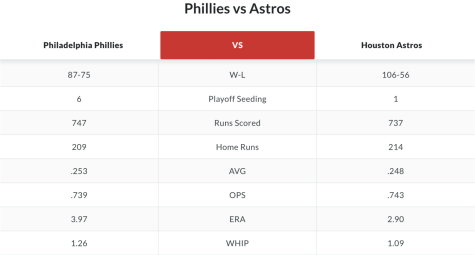 According to CBS, the money line on Astros vs. Phillies is Philadelphia +143, Houston -170. Based on statistics, the odds are seemingly in overwhelming favor of the latter. However, what looks probable on paper isn't necessarily always foolproof. Here are three reasons why the Phillies will win the World Series.
1: H&H: Harper and Hoskins
Bryce Harper, the Right Fielder and Designated Hitter for the Philadelphia Phillies was pegged for stardom since he appeared on the cover of Sports Illustrated at 16. Now, weeks past his 30th birthday, he's primarily met those high expectations, winning two MVP awards and building a career resume perfectly fit for Cooperstown. Harper has had a magical postseason run, slashing .439 and hitting in 10 consecutive games. He's had nine games with at least one extra-base hit, including five home runs. He is only the third player in postseason history to have a nine-game span with an average that high, as well as at least ten extra-base hits and five homers, joining Kike Hernandez in 2021 and Carlos Beltran in 2004. "He's proved to me over and over and over again that there's no moment that's too big for him. He's come through so many times. You just expect it when he goes to the plate," said manager Rob Thomson of his star player.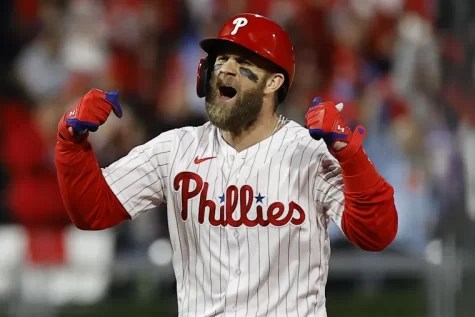 Someone else in the productive Phillies lineup has also managed to grab some of the spotlights, and that is a first baseman, Rhys Hoskins. Hoskins has come up big for Philadelphia in essential situations, most notably in Games 4 and 5 of the NLCS against San Diego. In game 4, he was 2-for-4 with two home runs and four RBI to help the Phillies take command of the series, and in Sunday's series-clinching win, Hoskins hit a two-run homer in a 4-3 win. For the season, Hoskins hit 30 home runs. 
If the success continues for the H&H men when the World Series begins on Friday, it may be enough to push the Phillies past the Astros. 
I am also predicting the NL 2022 regular season home run leader, Kyle Schwarber, to drastically impact this seven-game series.   
2: Starting Rotation
Everybody knows that good pitching almost always trumps good hitting. Although the Houston Astros have posted a sub-2 ERA during their undefeated postseason run thus far, the Phillies' rotation is nothing to scoff at. In postseason baseball, momentum is only as good as the next day's starting pitcher, and the Phillies have two bona fide aces at the front of their staff. One of the main reasons the Phillies are even here in the first place is largely due to the dominant right arms of Zack Wheeler and Aaron Nola. They are 5-2 when either of them starts this postseason.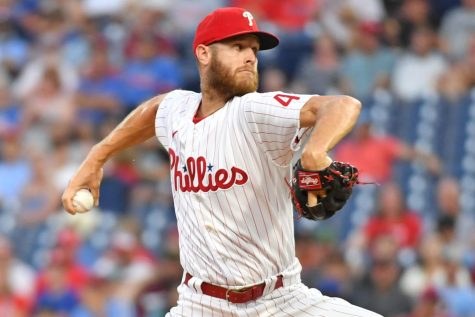 This October, Zack Wheeler's fastball has been more dominant than we have seen it all season. In the entirety of the regular season, he threw one singular 99 mph fastball. He threw five just on Sunday. In the regular season, Wheeler's fastball averaged 95.9 mph, but 97.1 so far through four postseason starts, and he shows no sign of slowing down. In Sunday's series-clinching win over the San Diego Padres, Wheeler went six innings, striking out eight and giving up only two runs.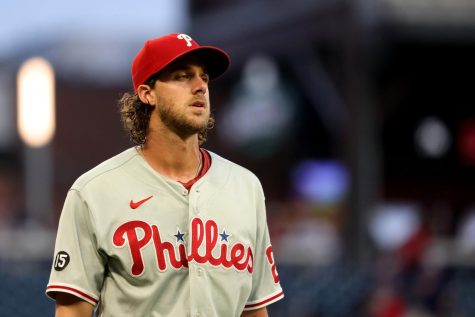 As far as Aaron Nola is concerned, The Phillies should be confident that he can overpower Houston's potent lineup because he recently did, and in a larger-than-life fashion. On Oct. 2, in his final regular-season start, Nola shut down the Astros and took a perfect game through 6 ⅔ innings. Nola has a 2.61 ERA in nine starts since September and has already logged two scoreless outings this postseason.  
With the talent on each team's roster, I expect this to be a long, entertaining, and hard-fought series. This means that If the Phillies can extend a potential matchup against the Astros to six or seven games, it guarantees that Wheeler and Nola will start twice each, which is a recipe for success that the Astros are only too familiar with.  
3: They are on a hot streak 
An argument can be made that the Phillies shouldn't even be in the conversation to take home the title, primarily based on their regular season record of 87-75. It is true. Not many people expected the Phillies even to make the playoffs after their start. On Jun. 3, Philadelphia was seven games under .500 and fired manager Joe Girardi. Rob Thomson took over and went 65-46 to finish the season. There were many times during the season when the Phillies part of this bet didn't look good. However, they started hitting at the right time, and it seems like every part of their lineup can greatly damage an opposing team's pitching at any given moment. The Astros may be the better team on paper, but if this postseason has shown us anything, it's that the better team doesn't always win a short series. When the Phillies are hot, man, are they ever.
The Phillies have a deeper and more well-rounded lineup than acknowledged, two studs at the front of their rotation, and immaculate vibes pouring from the city of Philadelphia. I'm predicting a World Series for the ages. A series ends with an NL East team celebrating a title at Minute Maid Park.