Columbus Day Parade Featuring the NPHS Band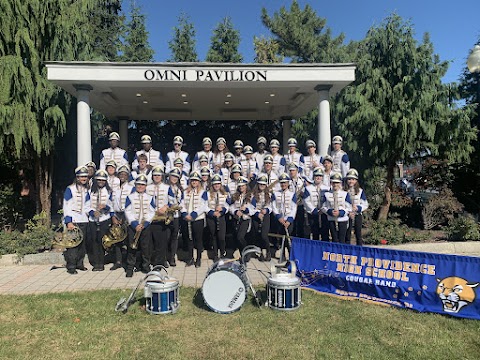 Columbus Day, a celebration of Christopher Columbus' arrival to America, is celebrated nationally, giving us, students, a day off of school. Some may spend the long weekend playing video games, while others may sleep or spend time with friends and family. However, at NPHS, band students practiced their instruments, memorized music, and ironed their band jackets for the big day ahead of them.
The Columbus Day Parade, located on Federal Hill in Providence, hosted its annual parade last week on October 9th. The NPHS band marched the parade in their blue and yellow band jackets while playing numerous well-known songs, including Sweet Caroline, Twist and Shout, Handclap, and The Land of a Thousand Dances. The band played consecutively, as percussion instruments played a mesmerizing rhythm between each song. While playing all these songs by memory, hundreds of viewers and bystanders cheered for the NPHS band. Many individuals, including the Johnston Senior High School Band Director, complimented the band's sound and performance throughout the parade. Our band deserves recognition, so if you see a band student carrying their instrument to class, or Mr. Morrison, the band director, strolling the hallways, thank them for the determination and effort they give NPHS!
,