One of Us is Lying Book vs. Television Show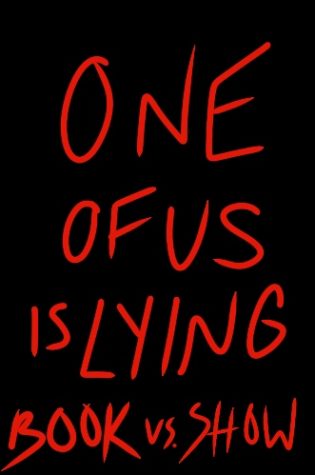 One of Us is Lying is a thriller mystery book, written by Karen McManus and released in 2017. The novel is about four kids, Bronwyn, Addy, Cooper, and Nate, who are all suspects in the mysterious death of a fellow student named Simon. One day all five of them receive detention for having their cellphones in school but the cellphones found were not even theirs; they were planted. In the middle of detention, Simon starts having an allergic reaction and everyone attempts to save him. They try getting him his EpiPen but in vain. Alas, Simon ends up dying. As a result, Bronwyn, Addy, Cooper, and Nate all become prime suspects in the possible murder of Simon. This novel is so well written, descriptive, and will keep you on the edge of your seat throughout the story. The book became so popular, it spawned a sequel titled One of Us is Next and an NBC Peacock show. Ever since I read the book, I had been wanting the book to be turned into a show or a movie, and when it was announced, I was really excited. Yet, the problem is: many TV show/movie adaptations of books turn out to be flaming hot dumpster fire trash due to poor script writing and acting. Despite that, I believe that the One of Us is Lying show is one of the better book-to-show adaptations. Of course, the show has its flaws but it's still good. There are some noticeable differences from the book and the show that could make people who have read the book raise an eyebrow.
For example:
Nate is described as being tall with blue eyes, black hair and usually wearing a leather jacket in the book. However, in the show, Nate has blonde/brown hair and does not really have the "criminal" aura that Nate has in the book.
In the book, Bronwyn, Addy, Cooper, and Nate are in detention because they were all caught with phones on them. In the show, they all receive detention for various reasons (none matching with the explanation given in the book).
In the show, Bronwyn's younger sister, Maeve, is revealed to have some kind of relationship with Simon, but in the book, Maeve and Simon never interact with eachother.
In the book, after Jake is revealed to have been working with Simon to fake his "murder" (which was actually a suicide), Jake is arrested for his involvement but in the series, Jake is killed.
For people who haven't read the book first, they'll definitely like the show and notice no differences!