Richard Reviews: Stronger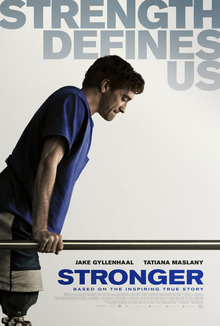 Hang on for a minute...we're trying to find some more stories you might like.
Stronger is a bio drama staring Jake Gyllenhaal, Tatiana Maslany, Maranda Richardson and is directed by David Gordon Green.  It is 119 minutes and rated R.
The film tells the story of Jeff Bauman, a man who survived the infamous Boston Marathon Bombing but has his legs amputated. Jeff had seen one of the bombers and gives the FBI a description of him.  It then chronicles Jeff's struggle to accept himself as legless while also showing his attempt to recover and being lauded as a hero to Boston.  I liked that the film is not just showing his recovery and also shows moments from his personal life.  This gives must more depth and emotion to the characters.  It is very realistic in showing Jeff's struggles.  Jake Gyllenhaal does great in portraying Jeff Bauman as does the entire cast.  Stronger is a very good film that I would highly recommend.
I will give it three popcorn buckets.