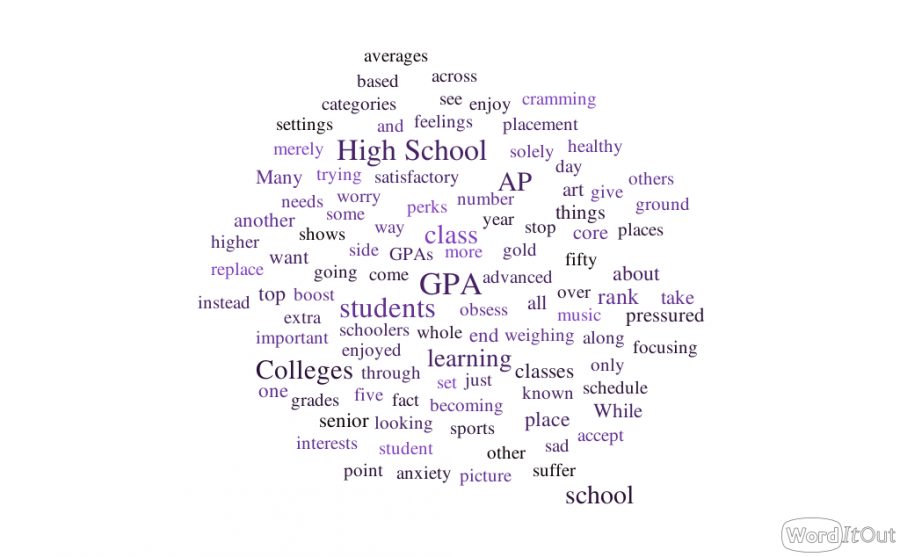 High school students all across the country worry about their class rank and  have feelings of anxiety about becoming top of their class. While healthy competition has its perks and should have a place in school settings, many students obsess over their class rank instead of focusing on things that are more important.
Class rank is merely just a number. It shows the top students of a given class based solely on grade point averages (GPAs). While this for some is  a good way to set goals, for others, it is an all out rivalry. Students at the top of their class have been known to replace a lower weighing class they would have enjoyed, with an extra advanced placement (AP) class, just to boost their GPA for their senior year.
This sad fact needs to come to an end. Not only is high school a place for learning core subjects, it is also an experimental ground for trying new things. Students should not be pressured to give up an art or non core class to take an AP class that they will just suffer through. High schoolers need to be pressured into taking classes they enjoy, rather than going for the gold by cramming five AP classes in their senior schedule.
Many students also do not take into account that colleges aren't just looking at their classes. Colleges want the whole picture; They want to see that the students they accept have other skills and interests in categories such as art, music, or sports, along side with the satisfactory grades. High school students should stop worrying about if they are higher than one another in class rank, because a the end of the day, the student who places fifty in one school, might place first in another school.